This recipe is for a deep-dish pie pan or an 8x8 baking dish. Easy, easy.
You will need:
3/4 cup sugar
2 cups milk
4 eggs
1 1/2 cinnamon
bourbon (optional, but highly reccomended)
raisins (also optional, but comeon. raisins.)
1 1/2 tsp vanilla
2 tbsp melted butter
a loaf of challa, brioche, or some other, hardy old bread. stale-ish.
---
Preheat the oven to 350 degrees.


Grease the pan with a little bit of butter. Not the melted butter. Toss in some raisins on the bottom.


Cube up some bread and put it in the pan. Enough to fill it. Pour the melted butter over the top.


Beat the 4 eggs in a big bowl, and add the sugar, milk, vanilla, and cinnamon. Also add a splash of bourbon. A splash. Certainly less than a shot. Mix it all up.


Pour it all over the top of the bread, pushing down the little dry pieces so they get soaked. Sprinkle more raisins over the top.


Bake for 45 minutes
before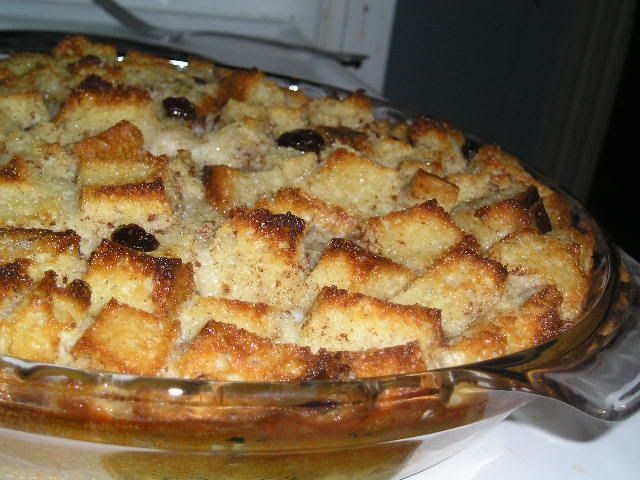 After. That's some photography, huh.
I'm a big fan of bread pudding.